Why Trade Finance? an Empirical Business Solution
Import/Export or 'Trade Finance" finance in Australia has export to balance figure of $11,607 million as compared to export loan balance of $6,042, according to most recent banking market research by East & Partners. Australia is the 21st largest importer in the world, in 2016 $181B was imported in shape of goods and services. Increases in imports are making the trade finance a life blood of the cross border transactions. Its scale is expanding from facilitating the cash rich organizations to emerging entrepreneurs. The gist behind import trade finance is easily understood by the statement:
" Trade or import finance facility closes the funding gap Between an order to overseas customer, Alleviate pressure on your cash flows and complex paperwork"
To be an importer in Australia, you need to know the licensing and permit requirements that is associated with a specific category and type of imported goods. These rules and regulations will help to pick the tailored trade finance facility for your sphere of operations. More than 40 different funding options are available in Australia are offering multiple import trade facilities and some of these are:
1-Import Letter of Credit- reducing the risk of overseas supplier
Establish a letter of credit in the Australian dollar or any major foreign currency. Import documentary LC can be opened at sight or period of 180 days. Key benefits and features are:
Manage your cash flows. Control payment terms and conditions. No advance payments needed, pay when your goods are shipped or later as per payment terms with the exporter.

Global acceptance. Rules are promulgated by International Chamber of Commerce which is called Uniform customs and practice for documentary credit.

Your supply chain finance requirements can be easily assisted by experts.
To facilitate the importers, the IMF has issued International statistical standards for recording letters of credit.
2-Documentary Collection-Mange your trade flows
Cost effective and safer alternative to prepayment! This financial instrument guarantees your ability for repayment of goods. Like letters of credit, importers don't have to make payment in advance. Rules are set by the ICC to protect you from open account trading and rigidity from letters of credit.
The process flow of DC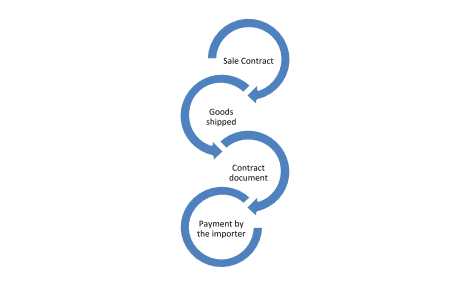 Importer and exporter enter in sale contract.

Goods are shipped on agreed terms

Exporter represents documents to the bank, in most of the cases importer can't collect goods until they have the shipping documents.

As per contract terms, the buyer will make payment at sight (Docs against sight) or a term (Docs against acceptance).
Trade Bill facilities
A short-term line of credit for importers! The importer can make payment after a fixed period of time at a fixed rate. TB is generally used where LC is not used. Carry more risk for the exporter as importer might refuse to pay. To avail this type of facility, importer needs to have solid credit portfolio so financial institution/bank can mitigate any risk in the future. And credit risk insurance or coverage by an export credit agency could be availed.
Comparison of import trade finance
| | | | |
| --- | --- | --- | --- |
| | Letter of Credit | Documentary Credit | Trade Bill Facility |
| International Acceptance | Yes | Yes | NO |
| Risks | Non-Assurance of quality of goods, Non-Delivery, and foreign exchange risks | Additional cost for inspection of goods, goods in transit risks | Risk of non-payment by the importer |
| Tenure | long-term /short term loan facility | Short-term payment basis | Long-term finance facility. |
Intellichoice
We have been offering finance and booking services for over 16 years so if you have any further questions please reach out to us on 1300 55 10 45.